26 M*A*S*H Icons
9 M*A*S*H Quote Icons
2 M*A*S*H Friends Only
1 M*A*S*H Header
001
002
003

004
005
006

007

008

009

010

011

012

013

014

015

016

017
018
019
020
021

022

023
024

025
026
027
028

029
030

031
032
033
034

035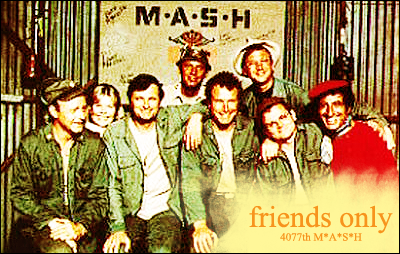 I can't stand the picture quality on this one, but it was too good a picture to pass up
Does anyone else think that Alan Alda's hair kinda resembles a hat here?
In case you can't tell, I love
Bananas, Crackers, and Nuts
(the liver scene is one of the best of the whole show, I swear), and
The More I See You
.
I'm totally back in the game, I highly enjoyed making these. I'm a Trapper fan, so expect some more of him ... and if anyone knows of any good IT Crowd caps, give me a link, and I'll make some of those as well.
As always, please credit (
goldengraphics
) and comment :)